I- Insights
Should small business outsource their bookkeeping requirement or carry it out in-house?
By Ava Daruwalla | August 07, 2021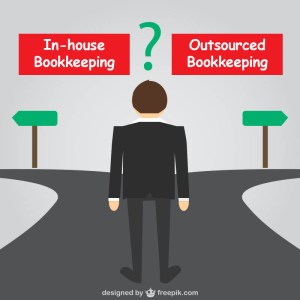 Covid has majorly impacted a lot of small businesses since 2020, and I'm sure that you are reading this article because you are trying to find new innovative ways to save time and money as well as grow your small business. If you should outsource your bookkeeping services or not, is a big change to adapt suddenly. But contrary to popular belief, it is most importantly dependent on your personal business needs if you should have an in-house bookkeeper or outsource the same.
You need to consider a lot of factors when you are thinking of switching to a cloud account software, to know more click here.
After a thorough research and analysis, I came to the conclusion that bookkeeping/ accounting services are better off outsourced than in-house, due to several reasons.
I am listing down some of the major benefits that I gained from Outsourced Accounting:
Having your bookkeeping in-house, could lead to a lot of unnecessary conflict of interests. Outsourcing bookkeeping services for your business frees up valuable time that can be put into the betterment of the company. Back-end office functions can be a daily distraction from the everyday running of things and all these factors lead to a massive waste of time. By using automated accounting, I have saved on a lot of time and also mental peace, which is ideally very important in running a business. There are a number of banking terms that are crucial to running a successful business, if you need a short refresher, click here.
The largest factor here is that by switching to outsourcing bookkeeping services, you also save quite a lot of money, which would have gone towards hiring multiple employees. Further, you also save on lost productivity possibilities that come along with hiring employees on your company payroll. By outsourcing your bookkeeping services, you only pay for exactly how much is required by you. You can select your customized plan according to your own business needs.
Outsourcing is also a great way to keep a continuous tab on what your employees are doing, without having to pay for it around the clock. By putting your bookkeeping operations into the hands of professionals and highly skilled staff who have intricately learnt and understand the best practices on how to properly get things done, my job becomes a whole lot easier and highly effective. Such good expertise is very hard to find.
When you outsource your bookkeeping services, you're placing your financial needs in the hands of a group of experts, that thrive on teamwork. On the other hand, when you hire a bookkeeper, his expertise is limited. This made me realize that outsourcing has a team of workers and managers that are double checking all their work to help ensure that we receive the best services possible.
Further, outsourcing your bookkeeping services gives you more access to the latest and most efficient tools in the accounting industry. Most small businesses cannot afford to pay for the highly priced bookkeeping programs nor can they afford to spend the time keeping up with the changing laws and regulations. By outsourcing, you are essentially purchasing all these added tools and knowledge. What's better, is that we don't actually have to do any of the work. It is all done by a team of highly skilled experts who also ensure that these systems and data is backed up every night in case of an audit.
Lastly, outsourcing your bookkeeping services also allows you to upscale really easily! You have the best team at your behest, providing you with different plans and options that will in turn help you achieve your desired goals.
Wondering which biz-finance application I use? It's definitely Xebra.
I am also listing down a couple of alternative Bookkeeping and Accounting service companies:
Xebra
Xero
Freshbooks
Tally
But as I said, after a thorough analysis, I have concluded that Xebra is the best finance/ accounting application. Besides accounting, it also offers a variety of biz-finance solutions that are categorized into Business, Financial, Human Resource and Social Solutions. You can check out more about Xebra's company history here.
I also feel that accountants will definitely be replaced by computers in the coming years. Debatable right? To know more click here.
It is an all in one application that merges business insights, invoicing, purchase, expense, asset, inventory, payroll, HRMS, tax, bank and accounting, all into one application, which makes it really easy to navigate as well. It's a 100% unified online accounting software. It's simple and extremely user-friendly. Xebra also has an extremely strict privacy policy and rest assured all your documents and data is extremely secure here, read more about their privacy policy.
I feel that businesses should always look for accounting software vendors that are absolutely transparent about their pricing, with no extra hidden costs. Xebra offers a variety of subscription packages which are extremely affordable and MSME friendly, check it out here.
Why choose Xebra over the other compelling competitors?
It improves cash flow & profitability by up to 40%
Saves 60% on software costs against buying standalone Invoicing, Payroll, HRMS, Tax & Accounting software
Automated bookkeeping – invoices, bank, tax & accounting saves 50 days/ year
This Post Has 4 Comments
---
Your email address will not be published. Required fields are marked *