I- Insights
The 10 features in an ideal Online Invoicing Software
By Nimesh Shah | August 07, 2021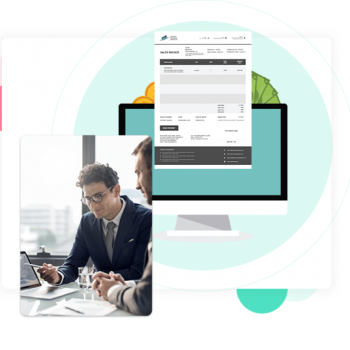 Whether you're a service provider or a product-based enterprise, today's market is getting more competitive than it was ever before. Retaining clients & growing revenue is the key to business growth. For an SME, time and money are essential resources and thus should be optimized. Begin that by opting for reputed online invoicing software.
Invoicing software will increase your productivity by automating the manual process of making invoices on excel sheets. What's better is that most of these are SaaS-based, making them affordable for smaller businesses. Here are the 10 features that keep in mind
1) Generating custom-made invoices
Your company has a unique personality, and that should be reflected in your invoice. It's your company's first impression and so has to be the best. Opt for an invoicing product that offers you multiple templates to choose from and customisation in terms of the details you want printed on it.
2) Accept multi currencies
When the world has gone global, why should you be bound with just one currency type to operate with? Ensure that the invoicing software allows you to record receipts & payments in multiple foreign currencies. Also, it should have the ability to convert foreign currency into local for your accounting purpose. Secondly, it should allow you to record forex gain or loss that accrues at the time of receipt or payment.
3) Integratable with other software
Most current software products are stand-alone invoicing software. You will have to download your data into excel and then import it to your accounting software, creating more work for you or your accountant. Also, this export and import of data can seriously harm the accuracy of data if not done carefully. Opt for a completely integrated application like Xebra that merges all the software modules together in one place.
4) Can attach supporting documents
You might want to attach specific expense vouchers that are reimbursable by the client with your invoice. Your software should allow you to seamlessly add that to your invoice total thereby removing the hassle of creating separate invoices just for expenses
5) Business Intelligence
A business intelligence dashboard gives a complete picture of the client-wise total amount outstanding. Also, it should highlight the growth client-wise so that you can make effective business decisions. It will allow you to speak with the appropriate sales team and also allocate resources in a manner that enables you to achieve your annual revenue goals. See more of such reports that are provided by software like Xebra
6) Automatically calculate your GST & any other tax liability
A good online invoicing software will auto-calculate the GST liability for each invoice drawn on each client. We all know the time-consuming GSTR1 reports that have to be generated monthly. Wouldn't it be a dream if your invoicing software did that for you automatically saving you not hours but days of manual work?
7) Data security & backup
Losing your financial data is an unaffordable high risk that you carry while using a desktop or laptop-bound software. So much of your company's sensitive financial and business intelligence lies in just one system which is susceptible to a crash at anytime. Online software invoice providers should have multiple server backup facilities which ensure that your data is easily retrievable in case of one server breakdown. Also, there should be high-level SSL encryption done for data transmission
8) Mobile Access information anywhere you go
Be prepared for every client meeting that you attend. A mobile app of the online invoice will allow you to view the current scenario on a real-time basis and enables you to set the agenda. It will give you accurate information on the growth rate, amount outstanding, TDS dues, etc. before the start of the meeting.
9) Online payment option
Improve your cash flow scenario by proving a payment link option to your client on the invoice itself. This feature makes it easier for them to release the payment post the completion of your task. A prompt payment cycle helps your cash flow scenario, which at a start-up stage could be crucial for the survival itself.
10) Estimate and Proforma Invoice
A business transaction usually begins by sending an estimate which then may convert into a sale and hence an invoice. The selected software should be able to generate an elegant estimate just as it does with an invoice. In fact, some of them even offer the option of converting the estimate into an invoice with just a click!
An integrated Saas product like Xebra offers you these invoicing features that save your time and energy. Xebra merges invoicing, expense monitoring, asset tracking, payroll, banking, tax calculation, and accounting.
This eco-system ensures a seamless flow of data that is accurate and available with a click! Xebra is priced competitively with a free forever plan to ensure that your company gains the most out of it.
Wondering if an online business accounting software is the right move for your small business? Click here.
How can an accounting software help your small business? Click here to know more.
The latest generation of entrepreneurs have started using multiple cloud accounting software's to increase their profits as well as productivity and save massive amount of time. Read more on this topic here.
This Post Has 0 Comments
---
Your email address will not be published. Required fields are marked *